A big 'Thank You' to our lovely couples that sent us statements about our work, skills and services.
Lila and Eleni, I don't even know where to begin. I wish there were more words than just thank you as I don't feel like that even comes close to how magical you made our day!
Thanks to you both you made our dream wedding a reality, I feel so emotional writing this thinking back to everything we did…from the moment we landed in Santorini I had nothing to worry about, you left me to enjoy the company of my guests arriving and chilling by the pool while you organised our 3 day Wedding!
Day 1 – Our boat trip was planned so perfectly, what a way to allow our guests to meet each other, music was flowing, drinks were pouring people were singing smiling and swimming.
Day 2 – Our Wedding Day. Wow. Just wow. You understood my vision, you made my fairy tale wedding a reality. I met you almost 2 years before and we spoke every week until the day. You were not just our wedding planners but you became family. Your attention to detail was magnificent and you went over and beyond to make sure everything was just perfect. I couldn't have done any of it without you! Everyone is still reminiscing about it now! We all just want to do it all over again!
Day 3 – Our White Party. Theros Wave Bar from your suggestion…it was just amazing…what a way to end our 3-day event! Everyone had an amazing time.
Daniel and I are so grateful for you both. If anyone wants the perfect Wedding to exceed their expectations, then "Weddings in Greece by Heliotopos" is the only place to go! You made our dreams come true. We have so much love for you.
Thank you for making not only our Wedding day but our whole 2 weeks stay in Santorini absolutely amazing!
xxx
Weddings in Greece by Heliotopos was the best decision we ever made. Who knew we would be working with the BEST wedding planner in the WORLD!  From the very first email received, Lila made us feel as though any question, big or small, was a pleasure for her to answer.
Organising a wedding from the other side of the world (Australia) is a difficult task, but Lila always seemed to manage to keep us calm, all the way from Greece. When we visited the year prior to the big day, it was as though we were catching up with an old friend. When locals found out about who our wedding planning was, their response was 'Lila is so good she could bend steel', hearing that we knew we made the best choice! When the wedding week arrived, Lila and her AMAZING team, ensured we had the best support when visiting vendors, and making decisions about all the things that go into any wedding. The day was perfect, as the heliotopos team were there every step of the way, up until the very end of the night when all guest were being transferred back to their hotels.
After the wedding, Lila insisted we catch up, even though she had a full week of weddings. That's how genuine and kind hearted she is.
My husband and i will be forever grateful to Lila and her amazing team, as our wedding day was exactly how we pictured it, and much more…
Thank you for everything you have done, and continue doing for Brides all over the world, you TRUELY are a master of your work.
Much love,
Your friends
What can I say? We found out about Lila via a recommendation from a gay couple, married in Santorini whose wedding trailer we found online. The trailer was so absolutely beautiful it took our breath away and we had to find out who had been involved in the wedding. This is where we first heard of Lila and her company Heliotopos Weddings in Greece. The more we researched, the more we heard of Lila's reputation as one of Greece's best wedding planners. 
Once we contacted Lila, we knew immediately that she was the one to help us plan our wedding abroad. She was enthusiastic and seemed genuinely excited from the offset. Before booking a lot of footwork was placed in our proposal and package options, and everything just fell into place. Lila stayed with us every step of the way and was regularly in touch, a lot of the times even with just a message of good wishes for the day ahead which really made us feel valued and in safe hands. 
It's quite daunting to have to organise a wedding without meeting your vendors or seeing your venue in advance, however, it all fell into place so easily. It really is a blessing to have such a dedicated person piece everything together while you are 2000 miles away. 
Lila met us two days before the wedding with genuine excitement for our arrival on the Island. She had organised for us to meet with all of our suppliers and talk through the plan of the day itself. Lila also introduced us to Eleni a couple of days before the wedding, also from Heliotopos and she would be helping co-ordinate on the day. Eleni is a true blessing and such a glowing light of enthusiasm and energy, as is Lila. We felt truly blessed to have them on our team and there was not one bit of stress involved in the whole process. 
Arriving at the wedding day, everything just felt like a dream and it ran so seamlessly. It was like something from a movie. Endless thank you and recommendations to everyone reading this! 
Thank you with all of our hearts, A&D
I cannot recommend highly enough the service that Lila Konstantinidis provided for my daughter's Santorini wedding in July 2016. I would urge anyone looking for a wedding planner in Santorini but feeling a little wary that you do not have a UK representative to use Lila. Her knowledge of the legalities and professionalism around the wedding arrangements is second to none.
Lila's knowledge and professionalism instils confidence and reassurance which made  my daughter's wedding the most wonderful magical day that we will never forget…. Truly magical.
Lila provides a very calm, pleasant attitude to her work and makes things "just happen" We used the photographer, videographer, DJ and hair and make-up artists recommended by Lila who were all equally fantastic. She really has a true team of professionals.
Lila was brilliant when it came to the wedding legalities and explained everything so clearly and really knew what was required.
Despite being immensely busy during the wedding season Lila makes you feel as if yours is the only wedding in the world. On the day, despite being the mother of the bride, I never once had to check if things were being done as it all flowed so well, a true mark of good planning. I can't thank you enough Lila.
Sometimes words are so little to express feelings and the biggest gratitude and love we feel for Lila and her fantastic team.
We were organising this love wedding ceremony for a year and a half. Arrived in the island of Santorini went to check the venue of our personal choice just to realise that it wasn't what we were expecting, legal restrictions and many refusals made our first day in the island a very stressful one. But Lila was there! Listening, having control of the situation and on the way out she calmed us down and just said: don't worry boys I have two other incredible venues to show you. And that was the point when our dreamy fairy tale started. We had friends coming all the way from Argentina, America, Britain, Greece and while Europe and it was three of the best days of our lives.
Lila is extremely organised, she knows the whole island, she has great relationships with all the vendors, she can help you select, negotiate prices, give you her honest opinion.. and that's what makes a great wedding planner!!!
Lila and her team gave us so much love, care and attention. And that translated into three magical days. She loves what she does and we love her too. From the first moment we met she stopped been just a wedding planner she was instantly a friend. By the end she became one of our very good friends and family. A massive thank you to you Lila, to Foteini, Katerina and the whole team. You are the best. As we said to you before its such a blessing what you do and you give so much happiness to so many people.
We love you darling xxxxx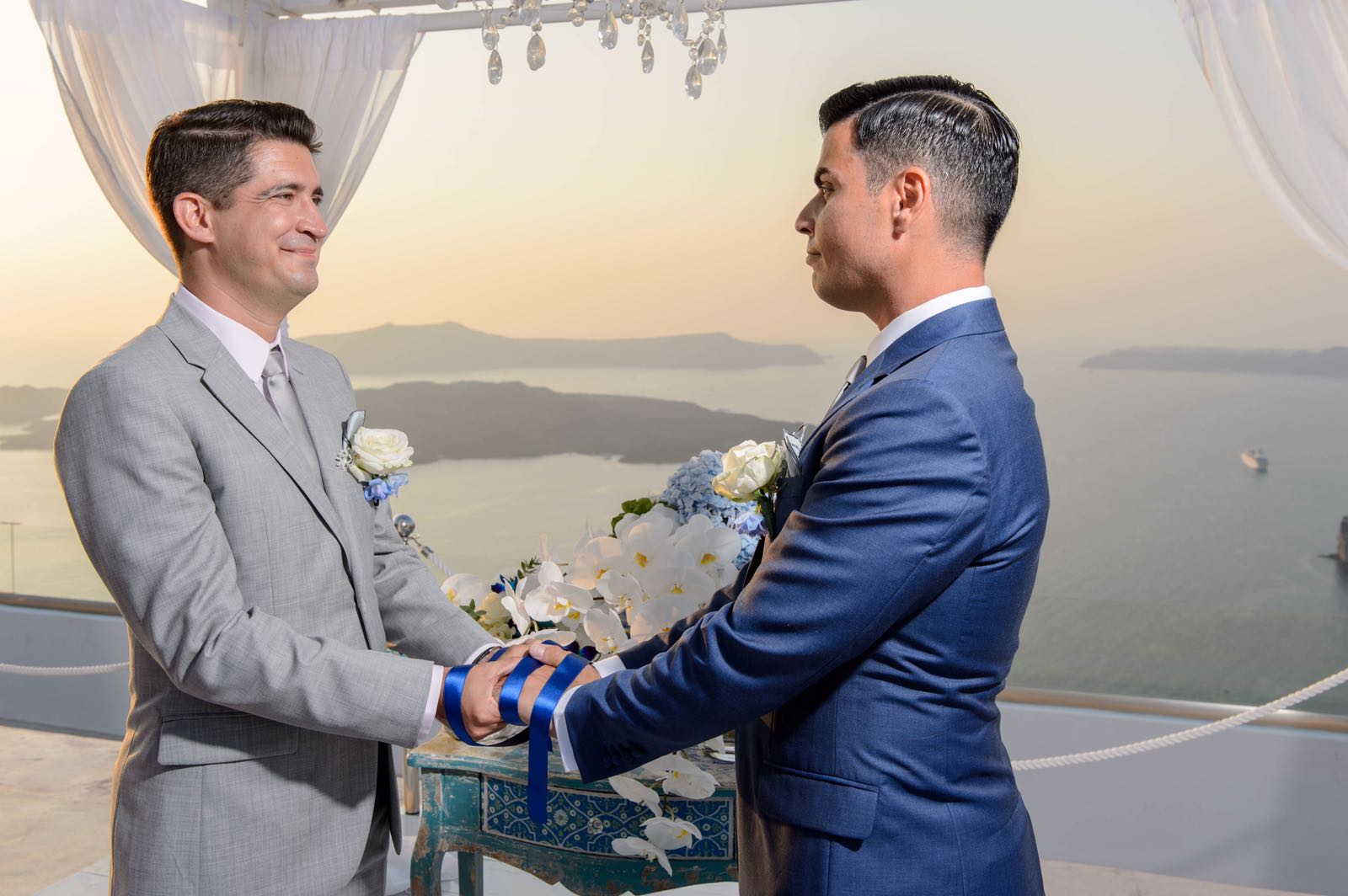 We feel we have to share our perfect wedding with you.  From the minute we made the decision to hold our wedding on the beautiful island of Santorini and were introduced to Lila, our wedding coordinator, we soon realised that we were in very safe and experienced hands.  Holding a wedding abroad can be quite daunting and has to rely on good communication  and interpretation. From choosing the flowers, to the table decorations, to the food, the wines, the transport to the venue, to the entertainment; our long list of requirements were managed efficiently and professionally by Lila and confirmed back to me in detail with all questions answered.
As a result of Lila's years of 'wedding planning' experience and total professionalism my actual wedding day was a dream and went completely to plan. The Heliotopos hotel is positioned high up the volcanic mountain on this beautiful  island with the most spectacular view of the blue, blue Aegean Sea.
That first view as you walk down the stairs to the wedding terrace is absolutely breathtaking – our guests were truly taken aback by the magnificence of the views below.  Lila helped me to arrange a traditional Greek band for the wedding and the reception and we had some brilliant Greek dancers entertain us later on who had the whole wedding party joining in with the dancing.  The wedding reception was held in the lava cave, a 'quirky' and cosy room in the Heliotopos which had a really lovely and romantic ambience.  The food was very tasty and enjoyed by all.  At 8.10pm we all went back onto the terrace to watch the beautiful sunset, it was simply stunning.
We were so well looked after by all the staff at the Heliotopos, the service was fantastic, we really couldn't have asked for more.  There was honestly not one thing we would change about our wedding, it was truly perfect, we were all still 'buzzing' from it days, no, weeks later!    We both want to re-live it all over again!
We can't thank Lila and her team enough. A special thanks goes to Lila's assistant Fotini for looking after us on the day and helping with all the 'legal' paperwork.  I could go on! Santorini and the Heliotopos will always hold a very special place in our hearts. Attached some pictures we would really like to share😊
Lila, We thank you from the bottom of our hearts. You took the dreams we had for our wedding and you made them a reality. It was beyond perfection. 
I want to congratulate you and your team for your kindness, thoughtfulness, professionalism, skill and your ability to over deliver on all aspects on the day. 
Your positive spirit throughout the whole preparation period set a tone which carried through to the day – melted away tension, and held everyone together as a seamless team. A joyful day. 
Your efforts are appreciated and will never be forgotten" 
It is 3 months later and our friends and family are still talking about our wedding! They are telling others about the breathtaking venues, the delicious food, the stunning decor and the wild entertainment… and most importantly about the impeccable execution!
A big fat Indian wedding is no mean feat to undertake as it runs over so many days with numerous events and rituals but an even greater challenge is having an Indian wedding as a destination wedding! None of the magical elements would have been possible if it were not for Lila and the Heliotopos team!
Heliotopos had a key role in all the elements of our wedding – from helping with accommodation for our guests, to planning our boat party and even dealing with some more stressful and teary moments.
The entire team was knowledgeable, energetic and approachable. They felt more like our family than our wedding team! And Lila herself is more like our Greek mother!
If we could do it all again we would always choose Heliotopos!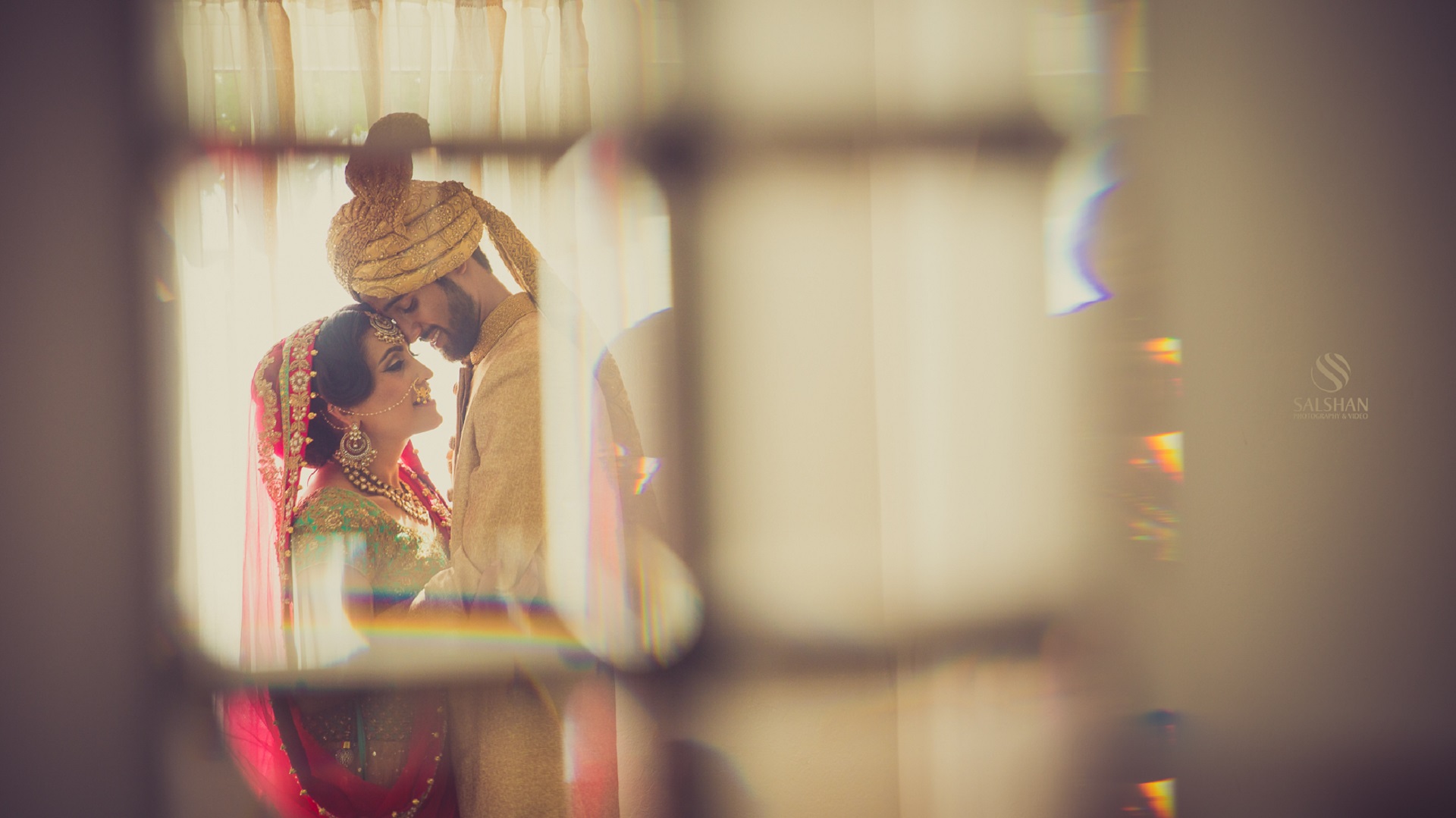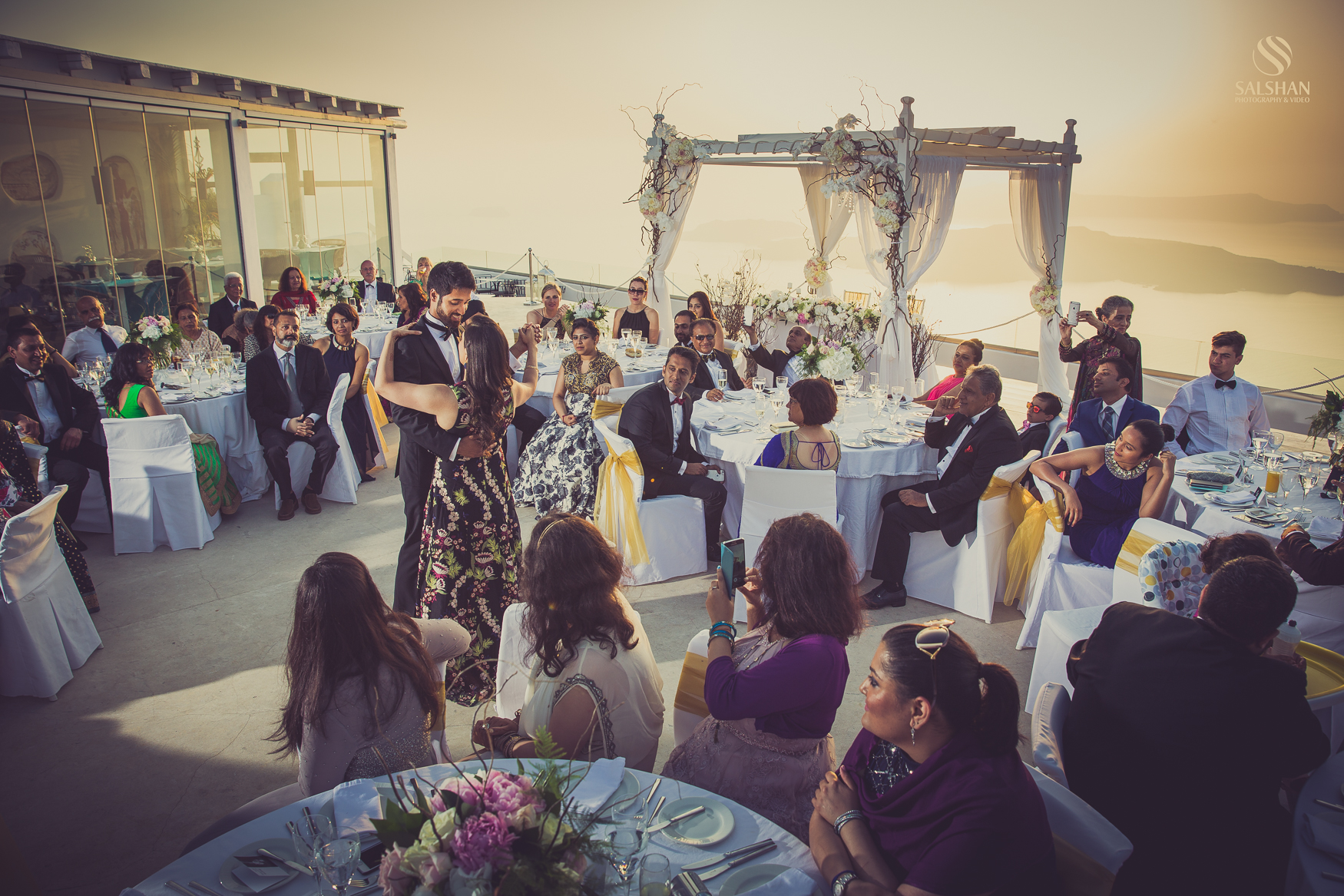 Lila was such a massive part of our wedding and we cannot thank her and her team for all their hard work in making it so special.
From day one, Lila was happy with engage with us through emails and understood my anticipation on the run up to the big day.
Lila always reassured us and made sure that we understood all of the logistics for getting married abroad.
When we arrived in Santorini we were made to feel so welcome and the initial meeting with the venue with organised perfectly.
From handing over our 'finishing touches' to going through the running order of day, it was all so easy and very well supported.
Nothing was too much effort for the team and they worked very hard to ensure our day was beyond perfect.
We had wanted a few changes to our vows and, due to language barriers, this wasn't possible.
However, Lila stepped in and read these during our ceremony which meant so much to us.
I honestly can't recommend her enough. She is the loveliest person you could meet and will make your wedding day magical.
She knows her brides/grooms inside out and this makes the planning of the day so much easier.
Would recommend 100%
We got married in beautiful Santorini in July 2016 and it was the best day of our lives. Although we would love to do it all again, the day went perfectly and we wouldn't change a thing.
Lila was helpful and supportive throughout. She was always on hand to answer our many questions and she did so quickly. She offered lots of reassuring advice and her recommendations were excellent.
When we arrived in Greece, Lila and Fotini met with us to go through our plans and the itinerary for the big day. She was very thorough and spent a lot of time making sure we had exactly what we wanted.
Lila and Fotini met with us regularly in Santorini to go through the last minute details. On our big day both were on hand to make sure everything ran perfectly and they even joined in with our Greek dancers which we loved.
We had 40 guests join us at the Santorini Gem and they were all well looked after and later commented that it was the best wedding they have ever been to.
Lila's professionalism and expertise is first class and I would highly recommend her to any couple planning on getting married abroad. She helped make our wedding day perfect and it really was everything we dreamed of and more.
To Lila, our friend, thank you for everything. We are delighted you were our wedding planner and wish you all the very best for the future.
XXXX
We were delighted with the service and support from the Heliotopos team.
Lila has been a real pleasure to deal with over the last year, was always available and went above and beyond what we were expecting.
The two days went better than we could have hoped – with all events running incredibly smoothly.
Special thanks must also go to Fotini and Katerina for working so hard to make sure everything went to plan.
Thank you all for a magical wedding experience – all of our guests had an incredible time, claimed it was the best destination wedding ever and fell completely in love with the island.